The Wise Dollar Insurance
difference
The Wise Dollar Insurance
Our knowledge of the healthcare industry is unrivaled to other insurance brokers. The competition only understands insurance. We understand the entire healthcare system. Wise Dollar won't just sell you the policy; we will be there to help you once it is time to use it.
Long term care isn't just about you,
it

'

s about those you love
No one likes to think about the final years of their life because the unknown is frightening. The solution is to have options. With the right advice, you will have a plan in place to ensure quality of life. So no matter what happens, you can live your life comfortably and on your terms.
Six Ways to Pay for Your Long Term Care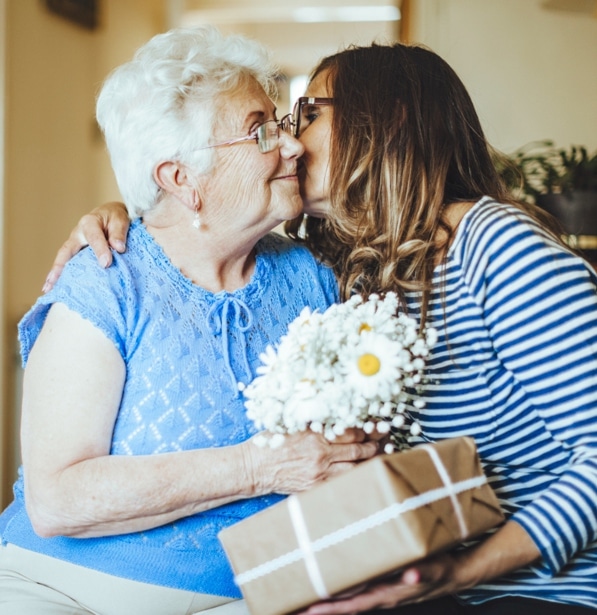 Self Insure
This means pay for it yourself. If you have enough savings or a robust retirement income, this is a viable option. However, the cost of long term care ranges from $40,000+ for a part-time, custodial, in-home aide to $100,000+ for a skilled nursing facility. This doesn't cover possible ancillary medical costs or other living costs you and your spouse might incur as well. Current overall healthcare inflation is between 5%-15% depending on the product or service. Either way, it well outpaces the current rate. Even with millions in savings, your funds will quickly diminish.
Medicare/Medicaid
You might believe if your investments are insubstantial enough to cover long term care, the government will fund it. The short answer is maybe. But there are limitations to what services and how long the government will pay for care. And the paperwork to apply is perhaps even more daunting. Full coverage of long term care is only provided to those who are completely destitute. And facility choices are limited with government reimbursement options because most prefer not to accept them as payment. Even without other challenges to contend with, these factors alone could result in inadequate care.
Veterans Administration
First and foremost, you need to have served in the military and have an honorable discharge. So only eight percent of the current population is eligible for this. It is important to note, the VA does not pay for room and board in residential settings such as Assisted Living or Adult Family Homes. The VA provides nursing home care if you meet certain eligibility criteria involving your service-connected status, level of disability, and income. The VA will not provide care for your spouse.
Traditional Long Term Care Insurance
This is a lot like the insurance you might own, such as auto or healthcare insurance. You pay a premium. In return, the insurance company will pay a professional to assist you with your problem. Long-term care insurance will pay for services such as home-based treatments and assisted living. This usually provides the most value in terms of premiums paid to benefits paid out. Premiums are tax deductible. And many states will offer additional financial protection if you own one of these policies. However, the underwriting is stricter and requires you to be in good health without preexisting conditions to qualify.
Long Term Care Annuities
Annuities have been scrutinized by the media. And in some cases, rightfully so. However, they still can provide you with a way to pay for long-term care. Annuities can provide monthly payments to those who have been denied long-term care insurance for health reasons. There are also some circumstances where this may be a simpler option than traditional long-term care insurance since it may not require a medical examination.
Long Term Care / Life Insurance
This is a relatively new product in the marketplace which has become increasingly popular in the past 10 years. As a result, these long-term care/life insurance policies (also called hybrid or linked benefit policies) are changing often. Insurance companies developed these for those who were concerned about purchasing long-term care insurance yet never utilizing the benefit. Hybrid products like this ensure your premium is returned. The premiums are guaranteed never to increase. Of course, these additional features result in more expensive premiums.
protect

your health,
safeguard your finances.
protect
your health,
safeguard your finances.
A change in jobs, residence, or retirement can create a need to find new health insurance. We can find a plan that fits your budget and needs.


Ensure your

family

is provided for.
Life insurance will replace income, fund retirement and/or college tuition, pay taxes, debts, and final expenses. And for the cost of a tank of gas, you can protect yourself with life insurance. Take 15 minutes and speak with us. You'll learn how easy it can be to protect your family's financial health.
65 probably came faster than you expected. The good news is, you likely have another 20-30 years to live if you are in good health. And even if you aren't, medical technology is improving life spans every year. This is why it is vital to select the right Medicare plan for you. So how does Medicare work?
First and foremost, you have seven months to figure out which Medicare insurance is best for you; three months before, the month of, and three months after your birthday. You can delay enrollment if you are still working and receive Medicare qualified health benefits, but most folks will need to enroll. So let's get started today!

How does the insurance company determine my premium?
Premiums are usually based on age, gender, height, weight, health status (especially tobacco use), and if you participate in high-risk activities or occupations.
Once I buy an insurance policy, will I ever need to change it?
If you already have insurance, most people look for a new policy to find a lower premium. Working with Wise Dollar can help you find the lowest rate since we are independent of any insurance agency. Although everyone would like to pay less, you will also need a new policy if you have any significant life changes. These circumstances include:
A recent marriage or divorce
Adopt a child or become a grandparent
Children or grandchildren who are about to attend college
Providing care or financial help to a child or elderly parent
Receiving an inheritance
Retirement
Starting a business
A change in employment or salary
Is insurance is a waste of money?
Although statistically, people between the ages of 18 to 39 are less likely to die or become critically ill, it will eventually happen. And no one is immune from tragedy. Our philosophy is this:
Everyone needs health insurance
Life insurance is necessary for anyone who has people depending on them for support
Everyone needs long term care insurance if you expect to live a long life
Everyone turning 65 needs to speak with an expert about their medicare options
Work with us and you will understand why this is the right way to look at insurance.
I get insurance benefits from my employer. Does that mean I have enough coverage?
It depends. We work with employers to assist them with their benefit plans and understand both sides. Your health benefits are likely good enough and also subsidized. Life insurance is a different story.
If you are healthy, your term life insurance is going to be cheaper on your own. This is because the premium must be consistent for each employee (although varies by age) and covers those who work with you and might be uninsurable otherwise. Also, you lose coverage when you change jobs. Replacement insurance costs more as you age. It's a good idea to have a policy that is not connected to your job especially when you are young and it is cheaper.
Can I buy insurance when I need it?
Unless it is ACA-approved healthcare insurance or original Medicare, you cannot wait to obtain it when you need the benefits. The ACA exchanges have limitations on when you can purchase a policy. And Medicare might require additional premiums and penalties.
Am I too old to buy long term care insurance?
Are you 79 or younger? If so, then you have options. However, those options are broader and cheaper the younger you are.
What happens if I miss a premium payment?
Most policies have a 31-day grace period. And if you pay the premium within that timeframe, there is no penalty or interest. After 31 days, the insurance company will usually terminate the policy.
Am I still eligible for coverage if I have a serious health condition?
It depends on the insurance. Medicare is guaranteed if you sign up for the benefits when required. ACA medical plans are also guaranteed to everyone. Almost all life and long-term care policies require medical evaluation. Premiums are based on the test results and the level of risk perceived.
However, even if you have a serious health condition, there are some options available with guaranteed issue plans. Although this comes with a higher monthly premium and lower benefit.
Start a no-obligation conversation 
today
You are the most important part of the insurance equation. In just 15 minutes we can develop a solution for your needs. Sometimes, you will receive a quote immediately. Other situations require more research. However, we will have the best solution for you in less than 48 hours. The end goal is to provide you with the best option to protect you and your loved ones.
NO HIGH PRESSURE SALES...EVER!